About Our COBRA Training & Certification Program
Best-Selling Training Courses:
Online Training Courses
More About Our COBRA Training & Certification Program
This page provides an inside look at the style and content of our COBRA training course.
Below, we've included a couple of content excerpts as well as some screen captures that follow Instructional Design Guidelines by showing lesson goals, training of those goals, then testing against what is taught.
You'll notice that we provide both the answers and the answer rationale for each of our knowledge check questions, which is a great way to help ensure learning.
As always, feel free to contact us if you have questions or need assistance ordering!
Excerpts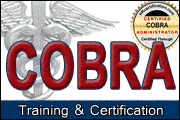 Below are some excerpts from this training course:
Program Demo: How The Program Works
Our COBRA Training & Certification Program includes training that meets instructional design requirements. Namely, each Lesson starts with a Lesson Goals page that outlines the key items that will be taught in that Lesson, followed by multiple pages of training, and concluding with End Of Lesson Quizzes that test against the lesson goals. Read futher for visuals and further explanations.
Lesson Goals
Each self-paced Training & Certification Program is delivered right to your desktop at the time you choose, and is loaded with information, examples, administrative tips, and interactive questions to help you understand and comply with Federally-mandated rules and regulations. You'll learn proactive design and administrative options, as well as key compliance processes and procedures to help reduce costs and health care claims, staring with a Lesson Goals page that tells you what you'll learn in that lesson. And best yet, your training is written in non-legal terms and supported with numerous tips, examples, and procedural recommendations. "Glossary" and "Help" buttons also are included, as well as a special "Bookmark" feature so you can save your place as needed.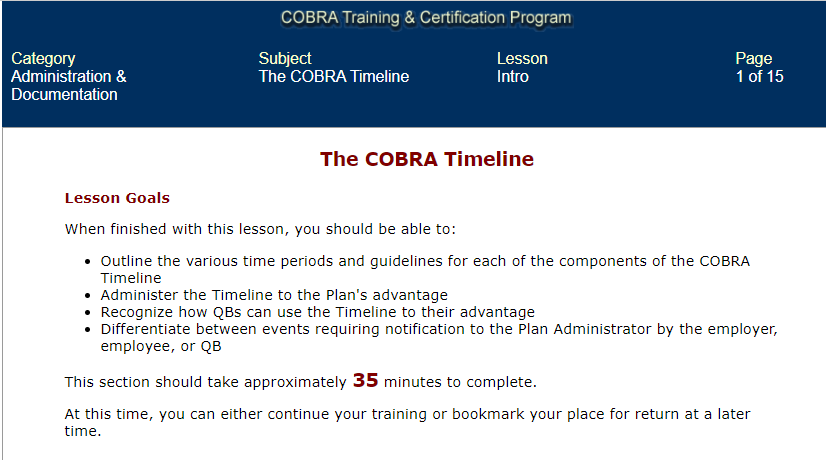 End Of Lesson Quiz
Lesson goals and learned content are tested through interactive questions during and at the end of each lesson. Answers to each question are provided right on that page to give you immediate feedback.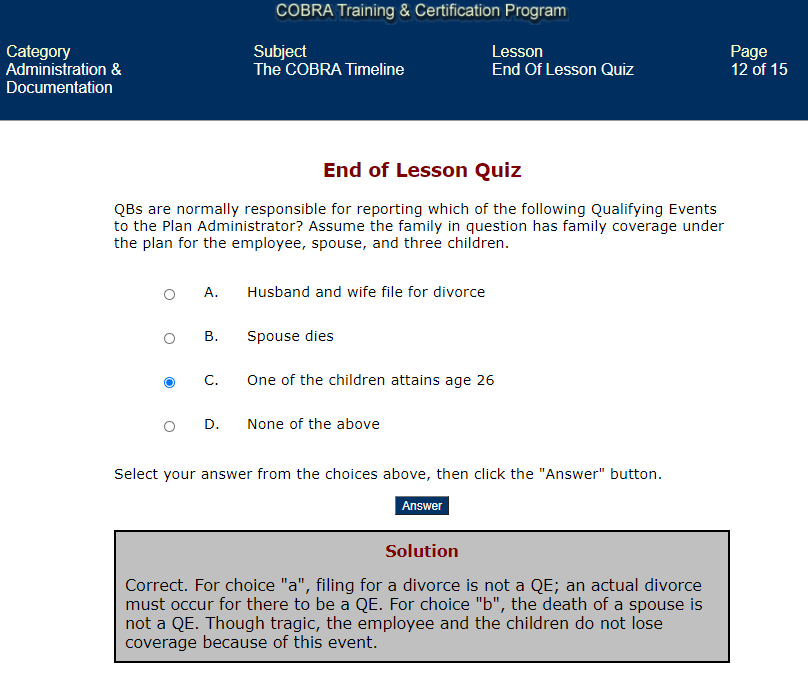 Certification

And don't forget: upon completion of the Training portion of your Program, you can test for "Certification". Certification helps provide confidence to Managers and Administrators that the person handling FMLA administration has a good understanding of the complex requirements necessary for proper compliance.
Agenda
Click
here
to view the full the Course Agenda.
Order
Best-Selling Training Courses:
Online Training Courses
Find Seminars, Webinars, And Online Training In Your Area