Analyzing Compensation For Equity And Risk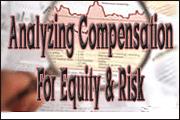 Seminar: ID# 1000292
Pricing: $399.00
About This Course:
Learn how to plan and execute an effective pay equity analysis.
Concerned about pay equity and discrimination risks under federal, state, and local laws, or outside stakeholder/shareholder pressure?
This interactive course teaches proven, practical strategies for identifying, assessing, and mitigating pay equity and discrimination risks. The course covers the legal and statistical concepts you need to know under Title VII, the federal Equal Pay Act, and the regulations enforced by DOL's Office of Federal Contract Compliance Programs (OFCCP). You'll also learn strategies and tactics for defending against compensation-related investigations, audits, and lawsuits, as well as the latest state and local pay equity developments and their impact on private-sector compensation practices.
What You'll Learn:
Identify statistical legal principles of pay discrimination

Construct tests and run regression analyses

Effectively analyze smaller groups of employees

Describe the federal supply and service AAP requirements

Describe the mechanics of an effective cohort investigation

Retool analyses in response to stakeholder pressures

Know when and hot to take corrective pay equity actions

Defend pay practices before the EEOC and OFCCP
Continuing Education Credits:

Click the 'Credits' tab above for information on PHR/SPHR, PDCs, and other CE credits offered by taking this course.