Analyzing Compensation For Equity And Risk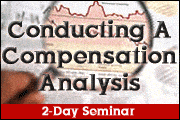 Seminar: ID# 1000292
About This Course:
How To Eliminate Compensation Issues
Concerned about pay equity and pay discrimination risks under federal, state, and local laws, or outside stakeholder/shareholder pressure?
Dive into sample datasets and scenarios and learn how to identify, assess, and mitigate the pay discrimination and pay equity risks under Title VII of the Civil Rights Act of 1964, the federal Equal Pay Act, and the rules and regulations enforced by the Department of Labor's Office of Federal Contract Compliance Programs (OFCCP).
Using a guided case study, subject matter experts in the law and analytics will guide participants through a systematic review of recommended methodologies for pinpointing potentially problematic pay discrimination indicators, including the statistical and legal aspects of an effective pay discrimination/pay equity analysis.
What You'll Learn:
Identify statistical legal principles of pay discrimination

Construct tests and run regression analyses

Effectively analyze smaller groups of employees

Describe the federal supply and service AAP requirements

Describe the mechanics of an effective cohort investigation

Retool analyses in response to stakeholder pressures

Know when and hot to take corrective pay equity actions

Defend pay practices before the EEOC and OFCCP
Order:
Analyzing Compensation For Equity And Risk
Price: $1,295.00
To order this product, find a location and date that is convenient for you under the "
Cities & Dates
" tab.