Accounting, Budgeting, And Financials Training For Non-Finance Professionals
Need training on basic accounting or budgeting? Do you use balance sheets, P&L statements, and other financial data, but do not feel comfortable doing so? If so, we can help you learn the essential elements of finance and accounting.

HRTrainingCenter.com offers basic accounting, budgeting, and financials training in a variety of training formats and focus levels. For instance, we offer the following accounting, finance, and budgeting training courses - all geared for the non-financial professionaLs: online finance or budgeting training, in-person finance or budgeting seminars or workshops, or finance and budgeting webcasts.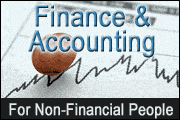 Here's just a sample of what you'll learn:
How to decipher general accounting terminology and gain a clear understanding of the language of finance and accounting

Gain insights to vastly improve your working knowledge and interpretive ability for balance sheets, income statements, and cash flow statements

How to use your enhanced knowledge of financial statements to develop better budgeting, projection, and forecasting skills

Interpreting annual reports: how to translate their deluge of information into knowledge that can help you make informed decisions

How to better communicate with accountants, bankers, comptrollers, and other finance professionals

Using financial ratios to analyze trends, conduct industry comparisons, and predict financial problems before they become insurmountable
Find Accounting, Budgeting, And Financials Training Courses For Non-Finance Professionals
To find your finance or budgeting training now, either choose a "Recommended Program" listed below or select "Finance / Accounting" and your state from the search box below.