Certificate In Employee Relations Law Seminar
Seminar: ID# 1003505
Get Updated On Employment Law

The seminar is presented by prominent employment law attorneys who are also excellent presenters. The focus is on the practical implications of the law and what steps participants can take on the job to cope with the complex requirements of the various laws and regulations in areas such as Title VII compliance, harassment, discrimination, dealing with labor unions, drug testing, alternative dispute resolution, FMLA, ADA, FLSA and much more.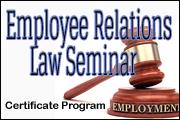 Upcoming Seminars:
We are sorry, but there are no in-person dates currently available for this course. We suggest you either search for another course, bookmark this page and check back later, or contact us to be notified when dates for this course are again available.
Need training or resources in other areas? Try our other Training Center sites: