Certificate In Employee Relations Law Seminar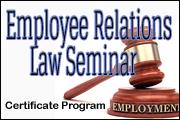 Seminar: ID# 1003505
Pricing:
$2,375.00

Early Bird: $1,950.00
About This Course:
Get Updated On Employment Law With Our HR Employee Relations Training Seminar
The Certificate in Employee Relations Law Seminar provides the most comprehensive, practical, and up-to-date employment law training available.
This 4½ day seminar provides best practices, insights, and information on the full range of employee relations law issues. It is thorough and practically oriented, and covers all facets of employment law and HR employee relations training.
And best of all: you will learn how to avoid costly employment problems - while improving your employee relations and professional performance!
Taught by leading employment law attorneys from law firms such as Thompson Hine, Paul Hastings, Littler Mendelson, and Sherman & Howard, you will learn practical implications of the law and what steps participants can take on the job to cope with the complex requirements of the various laws and regulations.What You'll Learn:
Gain a comprehensive understanding of all of today's significant employment laws and regulations, and the ability to know what to do about them in their own workplace.
Develop skills to recognize and deal with problem situations. Subjects include coping with federal and state regulatory agencies and their requirements, compliance reviews and agency injunctions, negotiating and settling complaints, and minimizing exposure to litigation by learning what steps and policies to implement in the workplace.
Get complete information regarding current and expected future regulations, enabling your organization to anticipate and plan for the future.
Our HR Employee Relations Training Seminar
Tens of thousands of past participants have told us that participating in the seminar:
Improves on-the-job performance and skills...immediately
Provides virtually all the information needed to function effectively in the employment law aspect of a job
li>Increases confidence in dealing with complex employee relations law issues
Helps participants to deal more pro-actively with employee relations law issues
Enables participants to take concrete and specific actions to substantially reduce their organization's downside risk to expensive, time-consuming and risky litigation
Increases the participant's value to their organization
Provides participants with an excellent environment to meet colleagues and share ideas
Included Materials
You will receive specially-prepared reference materials that serve as valuable on the job desktop reference manuals.
Continuing Education Credits:

Click the 'Credits' tab above for information on PHR/SPHR, PDCs, and other CE credits offered by taking this course.