COBRA Administration Training
Learn The COBRA Rules For Effective COBRA Administration
Though COBRA has been around since 1986, it hasn't gotten any easier to handle your COBRA administration: not only do you have lots of COBRA rules regarding notices, timelines, and gray areas - any one of which can get you fined or worse if handled incorrectly - but the law changes every couple of years, so you have to stay up to date on your COBRA compliance requirements!
Get COBRA Administration Training To Know The COBRA Rules
COBRA administration involves a number of notice requirements and timelines, as well as know a myriad of other COBRA rules. Get just one thing incorrect and your organization can be subject to fines and penalties, as well as covering health care expenses!
Our COBRA training courses will help you to better understand COBRA rules and requirements, and to handle your COBRA administration correctly. And by taking our COBRA Certification course, your COBRA compliance administration will seem that much easier!
Know Your COBRA Requirements - And Earn A COBRA Certification!
Here are just a few of the things you will learn from taking our COBRA certification course: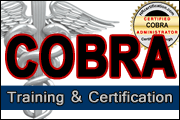 Employers And Plans Subject To COBRA
Which individuals are covered by COBRA
What are Qualifying Events
Qualifying Event Notices
The COBRA Timeline
How to calculate COBRA Premiums
Billing And Collection issues, processes, and procedures
How to properly handle premium payments
Events that can terminate COBRA coverage
Special Situations, such as COBRA's interaction with Medicare
How to offer COBRA during Open Enrollment
The interaction of COBRA and the Family And Medical Leave Act
Don't wait! Our best-selling COBRA Training & Certification Program, whereby you can earn a "Certified COBRA Administrator" designation will be a huge help to handling your COBRA administration requirements!
Find COBRA Administration Training
Listed below are some of our most-popular COBRA administration training courses. Either select one of these recommended courses or "COBRA" from the "Professional Development" section of the search box below.
Recommended Training Courses:
Online Training Courses
Find Seminars, Webinars, And Online Training In Your Area