COBRA Training
Best-Selling Training Courses:
Online Training Courses
Need COBRA Training?
Searching for COBRA training? Need help understanding or keeping up with COBRA legislation, COBRA regulations, or the various COBRA compliance responsibilities? Then you've come to the right place!
What Is COBRA?
COBRA is the acronym for the Consolidated Omnibus Budget Reconciliation Act. It requires a continuation of the employer's group health coverage be offered to workers and their covered beneficiaries who lose coverage due to a termination or other specific reasons. There are strict rules and regulations for offering and administrating COBRA, as well as heavy penalties for non-compliance.
HRTrainingCenter.com offers COBRA training for COBRA compliance, COBRA administration, COBRA legislation, and COBRA regulations in a variety of training formats and focus levels. For more details about COBRA, including notice requirements, timelines, handling premium payments, and more, go to
https://HRTrainingCenter.com/cobra_administration.asp
Find COBRA Training
HRTrainingCenter.com offers valuable COBRA training, including help understanding COBRA regulations, COBRA administration, and your COBRA compliance responsibilities and requirements.
For instance, we offer the following COBRA education formats for all skill levels: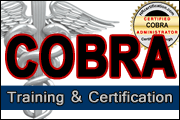 Online COBRA training

In-person COBRA seminars

COBRA webcasts and audio conferences
Listed below are some of our most-popular COBRA training courses. Either select on of these recommended courses or select "COBRA" from the "Professional Development" section of the search box below.
Best-Selling Training Courses:
Online Training Courses
Find Seminars, Webinars, And Online Training In Your Area