EEO Training | Affirmative Action Training And Planning
Best-Selling Training Courses:
Instructor-Led: Virtual/In-Person Seminars
Instructor-Led: Webinars
Need EEO Training? Affirmative Action Training? Help Writing Your Affirmative Action Plan?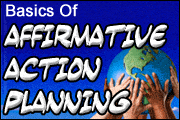 What Are EEO And Affirmative Action Program Requirements?
Equal Employment Opportunity (EEO) prohibits discrimination against employees on the basis of race, sex, creed, religion, color, or national origin. The term "Affirmative Action" describes policies aimed at a non-dominant group to promote its access to education or employment.
What Are EEO Requirements?
Besides abiding by EEO laws, certain employers must also file a report with the government. The EEO-1 Report requires company employment data to be categorized by race/ethnicity, gender, and job category, and be submitted annually.
Who Is Required To Submit An EEO-1 Report?
Any employer with at least 100 employees located in the 50 states or the District of Columbia, and any federal government contractor and first-tier subcontractors with 50 or more employees and at least $50,000 in contracts must file as well.
What Is The Purpose Of An Affirmative Action Program?
The purpose of Affirmative Action is to establish fair access to education and employment opportunities. Re education, Affirmative Action can refer to admission policies so as to provide equal access to education for those groups that have been historically excluded or underrepresented, such as women and minorities. Re employment, the purpose of Affirmative Action is to create a workforce that is an accurate reflection of the demographics of the qualified available workforce in the relevant job market.
Who Is Required To Have An Affirmative Action Program? What Does An Affirmative Action Plan Do?
While all employers should be mindful of EEOC (Equal Employment Opportunity Commission) laws, the only companies that are required to have a written, up-to-date AAP in place are federal contractors or subcontractors who have fifty or more employees and a contract of $50,000 or more.
For federal contractors and subcontractors, Affirmative Action must be taken by covered employers to recruit and advance qualified minorities, women, persons with disabilities, and covered veterans.
What Does An Affirmative Action Plan Require?
Affirmative Action Plans should be incorporated into the company's written personnel policies. Employers with written affirmative action programs must implement them, keep them on file and update them annually.
About Our EEO And Affirmative Action Training Programs
Affirmative Action training can include training programs, outreach efforts, and other positive steps to improve equal education and employment opportunities to achieve the full and fair participation of women, minorities, and individuals with disabilities looking forward, or to overcome the present effects of past practices, policies, or barriers.
There are certain laws, responsibilities, and requirements that organizations must follow - and be included in your Affirmative Action plan - to be in compliance with these laws. So, if you are searching for Affirmative Action or EEO compliance training - or for help with writing your OFCCP compliance plan - you've come to the right place! Here is just some of what you'll learn:
Affirmative action laws, background, trends, the Equal Employment Opportunity Commission (EEOC), and the Office of Federal Contract Compliance Programs (OFCCP)

Affirmative Action Plan (AAP) requirements

How to conduct a two-factor analysis

How to complete workforce and employee compensation analyses

How to conduct an affirmative action self-audit

Federal and state laws on racial discrimination, equal pay, gender discrimination, employment age discrimination

How to prepare for an OFCCP audit
Find EEO Compliance Training & Help For Developing An Affirmative Action Plan
HR Training Center provides a number of EEO and affirmative action training courses, including in-person Affirmative Action / EEO seminars and workshops.
Listed below are some of our most-popular training courses for your EEO training needs or for developing your organization's affirmative action plan. Either select one of these recommended courses or select "Affirmative Action / EEO" from the "Professional Development" section of the search box below.
Best-Selling Training Courses:
Instructor-Led: Virtual/In-Person Seminars
Instructor-Led: Webinars
Find Seminars, Webinars, And Online Training In Your Area

What Does An EEO Officer Do?

An EEO Officer works to ensure that the company does not discriminate against employees based on sex, race, gender, origin, or other legally protected groups.