Employment Law Training
Employment Law Training Classes
Need Employment Law Training For All Of The HR Rules and Regulations? Then Learn About Human Resources Laws With Our Employment Law Training Courses For Managers, Supervisors, And HR Personnel!
Looking for Employment Law training courses for the numerous HR Labor Laws and HR rules and regulations? Then you've come to the right place.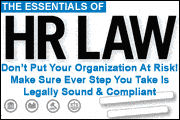 There are numerous human resources laws, including both federal and state labor laws, workplace law, and employment laws for hiring, as well as laws for COBRA, HIPAA, FMLA, ADA, Retirement Plans, Payroll, and then even more laws for terminating people correctly! And if you make one mistake, your organization can be sued and fined!
Let's face it: keeping up with all of the required HR employment law is a daunting task, but our employment law seminars, webinars, and online training courses can help. We know that HR professionals have many duties, and are often overworked.
But regardless of how busy you are, HR and employee benefits professionals need to understand the myriad laws that impact their daily work. Failure to comply with labor and employment laws can lead to significant fines and penalties, as well as potential negative press and legal expenses.
Complicating matters further, employment laws are subject to change - making it challenging to stay on top of these important obligations. Our employment law seminars and workshops have been developed by recognized HR, labor law, and employment law leaders. This can provide peace of mind, knowing you and your staff are learning current and relevant information.
Find HR Employment Law Online Compliance Training Courses, Seminars, And Webinars For Managers, Supervisors, And HR PersonnelTo Comply With HR Rules and Regulations!
Earn An Employment Law Certificate!
HRTrainingCenter offers a variety of HR employment law certificate compliance training courses, including online and self-study employment law training courses, a variety of employment law training seminars, and even an Employment Law Certificate!
And remember, training - or even a Certification - in employment law will greatly enhance your value to your organization, as well as your paycheck!
Here are just a few of the things you can learn by taking one of our employment law certificate training courses:
Hiring practices that will stand up under an EEOC undercover audit
Documentation you must have if you're called to court
Words you must never use in describing legalities in reporting incentive pay, benefits, and other perks
How to successfully evaluate, discipline, and correct performance problems of employees
How you must treat "special absences" such as religious holidays
What are - and how to handle - Reasonable Accommodation - requests
Essential steps to take when investigating employee allegations
Employee rights laws
State labor laws
Wrongful termination laws
Recommended Employment Law Training Courses, Employment Law Seminars, And Employment Law Certification Programs
Each of our employment law courses, workshops, and seminars is designed to help keep you and your company in compliance with the ever-growing list of employment laws and regulations your business must follow.
Whether you want the convenience of online, on-demand training courses, scheduled webinars, or classroom training for you and your entire HR and employee benefits team, HRTrainingCenter.com can help. Additionally, many of our labor and employment law courses qualify for PHR/SPHR re-certification credit hours.
To find your employment law training courses, seminars, and Certification courses now, either choose a Recommended Program listed below or select "Employment Law" from the "Professional Development" section of the search box below.
Find Seminars, Webinars, And Online Training In Your Area