Training To Become An HR Generalist
Once upon a time, you could complete on-the-job training in order to be truly successful as a Human Resources professional. Today, HR Generalists are expected to be experts in people functions such as recruiting, staffing, and compensation and benefits.

They are also expected to be well-versed in employment law, retirement plans, health care benefits, and strategic partners in the overall business plan. Most importantly, HR Generalists must be able to take that knowledge and apply it to real world situations on a daily basis.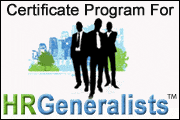 Fortunately, you do not have to develop all of this knowledge and all of these skills and abilities on your own, over time.

Comprehensive Training to Advance Your Career

One of the most frustrating parts of completing HR Generalist training is finding the program that is right for you. At HRTrainingCenter.com, we have taken all of the guesswork out of the process with our intensive HR Generalist training program.

This highly-rated seminar is held in cities across the country and, with 14 informative sessions and interactive exercises, you can gain the knowledge and abilities you need to excel as an HR Generalist. By attending this seminar, you will learn:
HR's role within the organization

The multitude of applicable laws

Practical do's and don'ts

Best practices

Ways to overcome current challenges to the profession as a whole

Methods to improve HR's image within your organization
Additionally, you will learn about legal compliance requirements and obligations under employment laws such as FMLA, ADA, COBRA, EEOC, and more. You will be instructed by industry experts and given opportunities to benchmark your HR practices against some of the best companies in the world. Best of all, you will gain the knowledge and skills necessary to advance your HR career.

HR Generalist Certification

Once you have completed HR Generalist Training, you will receive an "HR Generalist Certificate" that demonstrates your competency in HR practices. In addition, you will earn 18 PHR/SPHR re-certification credit hours and 18 SHRM PDCs.

You will also receive an opportunity to add to your HR arsenal through access to training and certification programs for FMLA, ADA, COBRA, and Paycheck Fundamentals. Each of these programs come with free updates whenever the law changes so you can stay current in your legal compliance.

Sign Up Today

What are you waiting for? Start your HR Generalist Certification training today and add more value to your organization with HR Generalist training. Sign up now or contact us for more information.
Related Links
How To Become A Human Resource Specialist - HR Specialist Requirements

A Human Resources Specialist, also known as an HR Generalist, an HR Compliance Specialist, or an Human Resources Benefits Specialist, generally handles a variety of HR functions, including everything from hiring to compensation to payroll to performance management to complying with numerous employment laws.

In many organizations, the Human Resources Specialist can be ...read more