Management & Leadership Skills For New Managers And Supervisors (2-Day)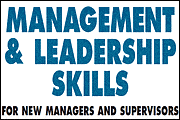 Seminar: ID# 1003777
Pricing: $349.00
About This Course:
You've Just Been Promoted To "Manager". Now What?
Getting promoted is a heady experience ... until reality sets in, and you realize you're not quite sure exactly what's expected of you in your new position.

You're not alone: Many first-time managers step into their new positions feeling apprehensive and ill-prepared. Why? Because it's a lot easier to be a follower than a leader. The skills and talents that made you a valued team player won't necessarily make you a great manager or supervisor.

It's For People Like You That This Seminar Was Created

This powerful management and leadership training will make your transition smoother and more successful. You'll use what you learn right away. If a tough problem comes up, you'll know how to handle it. When you're faced with a crisis, you'll react with confidence. You'll be better equipped to keep your people motivated, productive, and on target.

Consider This Seminar A Crash Course For Beginning Managers And Supervisors

In two solid days of practical instruction, we'll demonstrate and drive home the essential skills you'll need to step confidently into a leadership role. You'll gain insights into everything from making a good first impression to motivating people and managing change in the workplace.

The pace will be fast and full of variety, with a lot of information exchanged. To make everything you learn more relevant - and to help make it stick - we'll use a combination of proven training methods, including

Trainer-Led Briefings
Your leader is an experienced management and leadership training coach - a skilled facilitator whose 2-day goal is to prepare you for the realities of your new role. Through case studies, right way/wrong way demonstrations, and examples drawn from actual workplaces, you'll gain a big-picture understanding of what it means to be a manager today. And you'll have the opportunity to get your questions answered on the spot.

Group Exercises And Discussion
Collaborative learning (sharing your experiences, listening to your peers, working together to find answers) is a highly effective way to gain - and give - knowledge. The exercises and discussions in which you'll participate will bring to life the principles and practices you'll need to master as a manager.

Situational Practice
"Learning by doing" sharpens any newly acquired skill. These practice drills let you put your new skills to the test by applying them to real-world scenarios. You begin to see how things work, where you need more coaching, what the results look like. Whether you choose to be an observer or a participant, these practice sessions are a key part of your total learning experience.
Note: This seminar is exclusively for managers and supervisors - new ones, prospective ones, and those with some experience but no formal training. If you're a manager or supervisor now, or you're considering a move into management, leadership training is essential.
You'll soon find that many of your concerns are the same that others are facing, no matter their level of experience. As a result, you are all on common ground and will feel comfortable knowing that you're all there to learn.What You'll Learn:
Solidify your position
Prioritize tasks
Delegate responsibility
Foster accountability and ownership
Motivate people
Coach individuals and teams
Earn trust and respect
Assess skills and weaknesses
Hire and develop staff members
Communicate with peers and superiors
And perform practically every other duty expected of you in your new role
Continuing Education Credits:

Click the 'Credits' tab above for information on PHR/SPHR, PDCs, and other CE credits offered by taking this course.