Payroll Training Classes
Payroll Training Classes
For most people, the driving force behind going to work every day is the fact that they will be paid if they perform. The actual process of doing payroll can be very overwhelming for many HR employees. Fortunately, payroll training courses can help ease the burden of this vital weekly or biweekly task. Thus, helping your organization remain compliant with local, state, and federal laws.
Demands on the Payroll Professional
Payroll goes beyond issuing checks. Payroll specialists must know the legalities of exempt versus non-exempt employees; how to deduct taxes; how to make deductions for health benefits; which employees are entitled to or took vacation or sick days; and how to handle wage garnishments or child support payments.
Thus, it is helpful for payroll professionals to know how to handle all of the payroll forms that are required by local, state, and federal law.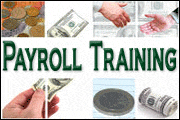 Also, as more and more organizations move toward direct deposit and electronic banking, payroll personnel must switch from a paper format to electronic accounting — making a complex process even more difficult.
Where Do I Find Payroll Courses?
One of the biggest challenges to completing the right payroll training courses is finding the right payroll certification or specialty webinar training course. HRTrainingCenter.com has done all of the work for you.
With our online payroll training course, and our payroll training webinars and audio conferences, we cover your payroll-compliance training needs. Simply click on one of our Certifed Payroll Training courses or our specialty payroll webinars below to see more details or to order.
Payroll Training, From Beginners To Specialties
If you are seeking payroll courses for beginners of specific courses covering payroll specialties such as Inpat/Expat, multi-state taxation, and fringe benefits, you've come to the right place. We offer a number of payroll training courses for beginners on both basic and advanced payroll specialties. Simply click a topic below for more details.
Certified Payroll Administrator Training
Our award-winning training interface not only gives you the information you need, we provide you with free updates whenever the law changes; free testing for the Certified Payroll Professional designation; and free employee tracking to help you monitor employees' progress through the system.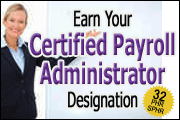 Payroll Training Webinars
Payroll Reconciliation And Reporting
In this audio conference, you will learn payroll reconciliation and reporting tips that will help you - and the rest of your company - sleep better knowing both your workers and the government are happy with payroll.
Available Versions:
Recorded. Available via On-Demand
Certified Payroll Manager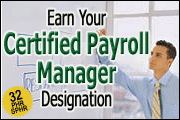 Among all the internal operations of contemporary U.S. businesses, perhaps none is subject to as many governmental regulations and requirements as payroll. Originally a technical skill, payroll today is a professional discipline. Now you can enhance your skills with a "Certified Payroll Manager" designation.
Certified Payroll Administrator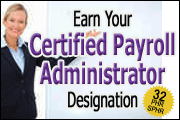 The Certified Payroll Administrator includes all aspects of payroll and training, including numerous examples, administrative tips, and interactive Q&A with answer rationales to help provide valuable insight into compliance requirements while testing your comprehension and application of the learned material! Being self-paced, the courses also allow you to earn at your own pace without time out of the office!

Find Other Payroll Training Classes
To find other classroom, self-study, and online payroll training classes, simply select "Payroll" from the "Professional Development" section of the search box below.
Find Seminars, Webinars, And Online Training In Your Area
Certified Payroll Training
Since payroll is such an important part of an organization, it is no wonder that payroll certification training is also vital to the health of a company's payroll department. Payroll courses help your staff stay current on payroll laws and recent legislation that affect your operational accounting. These courses are also designed to teach employees how to:
Properly "classify" workers
Apply the various exemptions
Calculate gross pay and properly make deductions
Correctly identify, pay, and withhold taxes for employees
Administer deferred compensation, cafeteria plan, sick pay, and other compensation
Handle stock options, expense reimbursements, relocation, and other "expenses"
Follow the proper policies, procedures, and documentation requirements for garnishments and levies
Properly complete and file all required reporting requirements
Correctly complete year-end requirements and establish year-beginning requirements
Implement and maintain fraud, audit, disaster recovery, and record retention processes and procedures
Once completed, certified payroll training courses can lead to a Certified Payroll Professional (CPP) designation. These training courses may also count toward a Fundamental Payroll Certification (FPC) designation or a certified American Payroll Association (APA) professional designation.
Related Links
HR Training Center offers payroll training courses and certifications for Payroll professionals on handling topics such as exemptions, deductions, travel pay, fringe benefits, documentation, and more.