Learning about workers compensation insurance coverage is an easy and affordable process when HRTrainingCenter.com is used to satisfy your training needs. Our website was designed to provide human resources professionals, company executives, and others who regularly are involved with their organization's workers compensation insurance program, with valuable training opportunities that often cannot be found together anywhere else like they are here. Courses can be found through our website, which teach users about a wide range of workers compensation coverage topics like how to best handle employees who have pre-existing injuries, how to create a work environment which is safe and not likely to cause workers to be injured, and how to contend with workers compensation insurance premiums that seem to be increasing all the time. Additionally, training may also be found which covers such subjects as how to handle malingering employees, and how to comply with the regulations which typically influence your organization's workers compensation claims administration policies and procedures.

While the topics described above represent just a small sample of the workers compensation insurance coverage educational opportunities which are available through HRTrainingCenter.com, they are certainly not the only ones. The expansive list of courses which are available through our site is just one of the many reasons why so many organizations from all over the country have chosen us as their preferred training provider. As you review all that we have to offer, we are confident that you too will determine that there is really no need to go anywhere else to find instruction on issues like how to comply with even the most complex workers compensation rules, or how develop the most effective workers compensation claims administration policies possible.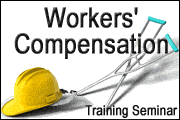 So what sets us apart from other facilitators of training opportunities? As stated earlier, we maintain and provide access to a huge list of courses that cover a broad spectrum of topics. These courses provide critical information about updates or changes in various workers compensation rules as well as about other critical issues that may be vital to your organization. These courses are developed by some of the HR training industry's highest regarded providers of education material. Some of the providers we are affiliated with include: Thompson Publishing, the Employer Resource Institute, the Council on Education Management, AE Roberts, and close to fifty others. All of the content providers that can be found on our site offer instruction in various formats about the topics that matter most to your business. No matter which one or combination of providers you choose to receive education from, you will be able to register for and track your progress in the courses through HRTrainingCenter.com with just one username and password.

Because we are affiliated with so many different quality training firms, you can often access the type of instruction you are looking for in the format that is convenient to you. Gone are the days when you had to attend an all day seminar in a distant location if you wanted to learn about important workers compensation claims administration rules. While this option is still certainly available for those who learn better through this environment, other options are also often available to our users. For example, many of the firms that are affiliated with our site also offer users the chance to attend a workers compensation webcast which allows you to receive training over the internet at a location that is convenient for you.

We hope that the benefits that can be acquired by using our site to receive training are evident - tons of convenient courses on critical topics offered by renowned trainers. How can it get any better than this? We are happy that you have made the decision to seek out the type of educational opportunities that are designed to expand your horizons and make your organization operate more smoothly, and we look forward to helping you achieve your educational goals. Good luck!


:

Available Training Options
To find training select your specific subject and state from the search box below.