Employment Law / Labor Law Training Courses
Employment Law / Labor Law Training Courses
Are you sure your business is meeting its obligations under federal, state, and local employment and labor laws? Are you positive you and your staff understand those rules and regulations? If you are not positive you can answer "yes" to both of those questions, we can help!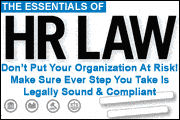 HRTrainingCenter.com offers numerous employment and labor law training courses, including employment law seminars, workshops, webinars, and other resources designed to cover a variety of topics such as FMLA, ADA, COBRA, HIPAA, Wage & Hour, Payroll, Cafeteria Plan, EEO, Affirmative Action, and more.
Each of these labor and employment law courses, workshops, and seminars is designed to help keep you and your company in compliance with the ever-growing list of employment laws and regulations your business must follow. Whether you want the convenience of online, on-demand training courses, scheduled webinars, or classroom training for you and your entire HR and employee benefits team, HRTrainingCenter.com can help.
Why Consider HRTrainingCenter.com's Employment Law Training Courses?
HR and employee benefits professionals need to understand the myriad laws that impact their daily work. Failure to comply with labor and employment laws can lead to significant fines and penalties, as well as potential negative press and legal expenses.
Complicating matters further, those laws are subject to change - making it challenging to stay on top of these important obligations. Our courses, seminars, and workshops have been developed by recognized HR, labor law, and employment law leaders. This can provide peace of mind, knowing you and your staff are learning current and relevant information.
Many of our labor and employment law courses also qualify for PHR/SPHR re-certification credit hours.
When you choose HRTrainingCenter.com's courses, seminars, workshops, and other resources for employment law, everyone benefits - including you, your HR and benefits team, your workers, and your customers.
Find Employment Law / Labor Law Training Classes
Navigating the minefield of employment laws is becoming increasingly treacherous in today's workplace. Our Employment Law seminars and training courses will help you to learn the basic skills to manage and administer employee benefit plans!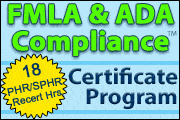 With employee lawsuits on the rise and HR professionals on the front lines, it is more critical than ever that you are armed with the information you need to protect your organization from expensive liability, so act today to get the training you need!
To find Employment and Labor Law training courses, either click one of the recommended courses below or select "Labor & Employment Law" from the "Professional Development" section of the search box below. Still have questions? Call 770-410-1219 today.
Find Seminars, Webinars, And Online Training In Your Area