Employment Law
Seminar: ID# 1003653
Learn the latest and best practical information about workplace laws you must know to

This one-day seminar offers a comprehensive overview of current employment law ¡ª so valuable for managers, human resources directors, and others in your organization.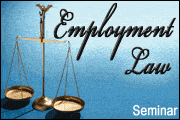 Upcoming Seminars:
We are sorry, but there are no in-person dates currently available for this course. We suggest you either search for another course, bookmark this page and check back later, or contact us to be notified when dates for this course are again available.
Need training or resources in other areas? Try our other Training Center sites: