Employment Law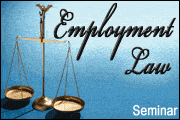 Seminar: ID# 1003653
Pricing: $149.00
About This Course:
Learn the latest and best practical information about workplace laws you must know to
:
Confidently apply the latest thinking on the Family and Medical Leave Act (FMLA) and the Americans with Disabilities Act (ADA)
Avoid the most common and costly Equal Employment Opportunity Commission (EEOC) breaches - including new federal focal points!
Learn about the recent changes in Fair Labor Standards Act (FLSA) wage and hour laws
Discover new legal thinking on employment-at-will, hiring, disciplining, and firing
Identify hiring do's and don'ts that keep you out of the courtroom
Stay current on the newest legal hot spots, such as high-tech privacy and records retention
Now more than ever...what you don't know about employment law can hurt you and your organization
There was a time when employment law was exclusively the concern of the company attorney. Sure, there were certain things managers were told not to do - like ask questions about an applicant's family responsibilities during an interview or have staff handle personal errands on company time - but beyond these and a few other "no-nos," employment law was pretty much considered common sense. One quick look at recent, costly court cases and you'll realize those days are gone for good.
Today, employment laws are far-reaching, and managers - along with the organizations they work for - can't afford the luxury of ignorance. You must be up to date on the law, as well as all its fuzzy interpretations, and know precisely how those laws apply to situations within your organization.
Otherwise, you risk employee complaints, lawsuits, and hefty fines. Additionally, federal laws and the courts' interpretation of those laws has changed in recent months. For the uninformed, it's a recipe for disaster.
That's what makes this one-day program - offering a comprehensive overview of current employment law - so valuable for managers, human resources directors, and others in your organization.
Unlike other presentations, this course focuses on practical workplace applications that prepare you to deal with the real-life issues you face every day that, quite literally, hold your company's profits and your reputation in the balance.
Don't leave your organization at the mercy of confusing, unclear, contradictory employment laws. Get the answers you need in one comprehensive presentation by enrolling now!
Who Should Attend
Human resources directors and staff
Managers, supervisors, team leaders
Business owners
General managers, operations managers
Continuing Education Credits:

Click the 'Credits' tab above for information on PHR/SPHR, PDCs, and other CE credits offered by taking this course.