Labor Law Compliance Training Courses
Need Labor Law Training?
Let's face it: keeping up with all of the required labor law training is a daunting task. So if you're looking for Labor Law training courses, then you've come to the right place!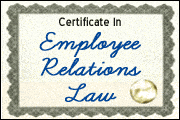 Labor laws. Not only are there a lot of them, but they are constantly changing!
There's labor laws for everything from hiring to firing - and if you add in the laws for COBRA, HIPAA, FMLA, ADA, Workers' Comp, Retirement Plans, Payroll, and more - you'll find you can spend half your time just keeping up to date on all of the labor law requirements!
What Do Labor Relations Laws Do, And Why Do We Need Labor Law Compliance Training?
Labor law governs the rights and duties between employers and workers. Many of the governing labor relations laws are designed to keep workers safe and ensure they are treated fairly, although laws also protect employers' interests.
Listed below are just a few of the federal labor laws. Where appropriate, we have included recommended training courses to help with your labor law compliance requirements for the respective labor relations laws.
Find Labor Law Compliance Training Seminars And Webinars, Or Earn A Certificate In Labor Law Compliance
HRTrainingCenter offers a variety of labor law compliance training courses, including online and self-study labor law training courses, a variety of labor law training seminars, and even a Certificate Program In Labor Law!
And remember, training or a certificate in labor law will greatly enhance your value to your organization - and maybe even get you a raise!
Recommended Labor Law Training, Labor Law Seminars, And Labor Law Certification Programs
To find your required labor law training courses, seminars, and Certification courses now, either choose a Recommended Program listed below or select "Labor & Employment Law" from the "Professional Development" section of the search box below.
Find Seminars, Webinars, And Online Training In Your Area