Training For New Managers And Supervisors
HR Training For New Managers And Supervisors
Are you or someone in your organization a new manager or supervisor?
If so, congratulations! But also consider: according to a recent study, 40% of new managers and supervisors fail within the first 18 months...and one of the major reasons they fail is that they are not given adequate training.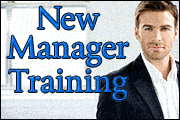 So don't become a statistic. Get started right by enrolling in some new manager training courses!
Why New Manager / New Supervisor Training?
For most people, their new manager communication and management skills like coaching, critiquing, resolving conflicts, running meetings, and doing performance reviews do not come naturally - they must be developed.
So why trust your career to trial and error when you can take a number of proven new manager and supervisor training courses to get you up to speed quicker and more efficiently?
Find HR Training For New Managers And Supervisors
HR Training Center offer a variety of new manager and supervisor training courses and seminars, including in-person, online, and leader-led new manager training courses. Either select from one of the recommended courses below, or select "Management" and your state from the "Professional Development" section of the search box below.
Find Seminars, Webinars, And Online Training In Your Area