Project Management Training
Best-Selling Training Courses:
Instructor-Led: Virtual/In-Person Seminars
Need Project Management Training?
Project Management is the practice of initiating, planning, executing, controlling, and closing projects within a specific time frame and budget to achieve specific goals.
Skilled project managers are sought after because they bring value by: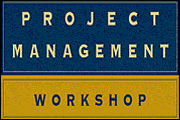 Ensuring timely project completion
Improving quality
Increasing productivity
Reducing costs
By attending our Project Management training courses, you will learn the most up-to-date, hands-on project management techniques, including:
Master the art of project planning to organize your project without omissions, mistakes, or miscalculations
Identify and use indispensable planning and scheduling tools that assure the project is implemented exactly as planned
Root out waste in every stage of the project, including wasted time, money, and effort that endanger a project's success
Estimate time and costs with pinpoint accuracy, using a simple 3-point approach that reduces the risk of costly delays and errors
Expert techniques for building successful project teams
Use better communications techniques to get the cooperation, support, and resources that are vital to the project's success
Implementing effective tracking measures to ensure your projects come in on deadline and on budget
As a result of attending one of our Project Management training courses, you will benefit by having:
More projects completed on time, within budget and with desired results
The people assigned to lead projects will do so with greater confidence
The process will run more smoothly, and with greater autonomy
Your people will be freed of the "crisis" mind-set that results from poorly planned and managed projects
Find Other Project Management Training Seminars, Books, Webinars, And Other Project Management Training Courses
To find courses for Project Management, either click on one of the "Recommended" courses below, or select "Project Management" from the Professional Development section of the search box at the bottom of this page. Don't forget to select a state and click on "Go!" to start your search.
Best-Selling Training Courses:
Instructor-Led: Virtual/In-Person Seminars
Find Seminars, Webinars, And Online Training In Your Area