Need Leave Management Training?
Searching for leave management or disability training? Then you've come to the right place!
HRTrainingCenter.com offers disability training for disability and ADA compliance, administration, legislation, and assorted disability and ADA regulations in a variety of training formats and focus levels.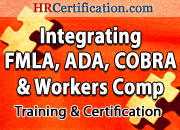 For instance, we offer the following disability and ADA education formats: online disability training, in-person disability seminars or workshops, or disability webcasts.
Find Leave Management Training
HRTrainingCenter.com offers valuable leave management training, including help understanding
ADA requirements

The FMLA and other leave management regulations

Leave management administration

Your FMLA and leave management compliance responsibilities and requirements
Listed below are some of our most-popular leave management training courses.

Either select on of these recommended courses or select either "ADA" or "FMLA" from the "Professional Development" section of the search box below.