HR Webinars
Busy HR professionals often cannot find the time to complete additional training they need. Instead of chasing seminars around the country, hoping you will learn the latest in legal compliance, employee performance management, and policy writing, why not access training from your computer with HRTrainingCenter.com's HR webinar training?
Human Resources Webinars
Each HRTrainingCenter.com webinar is presented by attorneys and HR consultants who are experts in their field. Presenters discuss current HR issues, take questions, and inform participants of best practices and practical solutions. Our HR webinars are available in live or recorded formats, and most offer HRCI and SHRM re-certification credits that you can receive without leaving your home or office.
No more tracking down the course you want in the location you need, no more taking time away from work to complete necessary training. Gain access to a complete and ever-changing list of HR webcasts that can help you implement the latest in HR laws, policies, and trends within your organization.
Featured HR Webinars
#MeToo For HR
9/11/2018
Topics range from the scope of behaviors that cause discomfort in the workplace, to why victims don't report harassment, to the role of leadership in creating a culture of inclusion.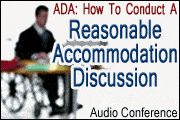 Webinar, Webcast, & Audio Conference Calendar

Aug 18|Sep 18|Oct 18|Nov 18|Dec 18|Topic/State
Webinars are typically posted 90 days in advance. Please select either another month or use the search box below to find training.
Aug 18|Sep 18|Oct 18|Nov 18|Dec 18|Topic/State

Cannot attend our live events?

Find recorded on-demand presentations here.
What Type Of HR Webinar Training Is Available?
Grow your skills and enhance your career with training in the following areas:
ADA: Find out how your organization can increase its compliance with ADA and what reasonable accommodations you can make for your employees.
Affirmative Action/EEO: Discover the benefits of diversity in the workplace and find out more about how you can enhance your organization's compliance with EEO laws.
Background Checks: What information is vital to your organization? What is considered a legal background check? How can you best use background check information?
Bullying in the Workplace and Workplace Harassment: Find out how to stop it and how to prevent it.
Cafeteria Plans: Learn how to help your employees make benefits choices that are right for them.
COBRA: Find out how to best comply with current COBRA laws.
Compensation: Learn best practices in compensation and how to implement these strategies in your business.
Disability and Leave Management: Approve, track, and monitor disability and leave with these ideas.
Discipline and Conflict Management: Find out how to best improve employee performance when conflict arises.
FLSA: Discover ways to better comply with the Fair Labor Standards Act.
FMLA: Unravel the mystery surrounding the Family and Medical Leave Act.
HIPAA: Find out your organization's responsibilities under HIPAA laws.
HSA/HRA: How do you administer your organization's HSA/HRA? What are your responsibilities to your employees?
Labor and Employment Law: Is your organization compliant with the latest labor and employment laws?
Payroll: Discover best practices for completing payroll on time and within budget.
Performance Management: Find out how to motivate and manage your employees.
Retirement Plans: Does your organization have a succession plan?
Safety: Keep your employees safe with these best practices for your workplace.
Terminations: Discover how to protect terminated employees as well as your organization.
Workers' Compensation: All of the ins and outs of navigating workers' compensation claims.
Don't wait to enhance your career, sign up for one of our HR webcasts today and start becoming a better HR professional. Click on any of the HR webinar titles below for more details or to register, or contact us to learn more.
Want Your Event Listed?

Contact us to have your product, services, or events listed.
HRTrainingCenter.com offers HR webinars/webcasts and audio conferences to help with your HR training and HR sales training needs.