FMLA Compliance Requirements
Best-Selling Training Courses: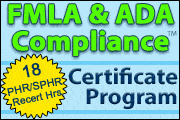 Instructor-Led: Virtual/In-Person Seminars
Online Training Courses
Instructor-Led: Webinars
FMLA Compliance Requirements
The federal Family and Medical Leave Act (FMLA) entitles eligible employees of covered employers to take unpaid, job-protected leave for specified family and medical reasons.
The FMLA is not intended to reduce any employer-sponsored benefit or collective-bargaining agreement that is more generous. Essentially, employees on FMLA leave are entitled to have health benefits through their employer maintained (provided on the same terms and conditions) during FMLA leave as if the leave had not occurred.
Overview Of FMLA Rules And Guidelines For Employers
Covered Employers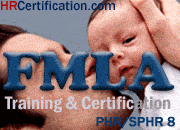 The FMLA applies to:
All private-sector employers with 50 or more employees

All local, state, and federal government agencies, regardless of the number of employees

All public and private elementary and secondary schools
Eligible Employees
Only eligible employees are entitled to take FMLA leave. An eligible employee is one who:
Works for a covered employer

Has worked for the employer for at least 12 months

Has at least 1,250 hours of service for the employer during the 12-month period immediately preceding the leave

Works at a location where the employer has at least 50 employees within 75 miles
Leave Entitlement
Eligible employees may take up to 12 workweeks of leave in a 12-month period for one or more of the following reasons:
The birth of a child or placement of a child with the employee for adoption or foster care

To care for a spouse, child, or parent who has a serious health condition

For a serious health condition that makes the employee unable to perform the essential functions of his or her job

For any qualifying exigency arising out of the fact that a spouse, child, or parent is a military member on covered active duty or call to covered active duty status
An eligible employee may take up to 26 workweeks of leave during a "single 12-month period":
To care for a covered servicemember with a serious injury or illness, when the employee is the spouse, son, daughter, parent, or next of kin of the servicemember
Intermittent Leave
Under FMLA intermittent leave guidelines, under some circumstances employees may take FMLA leave on an intermittent or reduced schedule basis. When leave is needed for planned medical treatment, the employee must make a reasonable effort to schedule treatment so as not to unduly disrupt the employer's operations.
FMLA intermittent leave guidelines allow employers to require employees to use accrued paid leave, such as sick or vacation time, during the FMLA leave.
Notice
Employees must comply with their employer's usual and customary requirements for requesting leave and provide enough information for their employer to reasonably determine whether the FMLA may apply to the leave request. Employees generally must request leave 30 days in advance when the need for leave is foreseeable. When the need for leave is foreseeable less than 30 days in advance or is unforeseeable, employees must provide notice as soon as possible and practicable under the circumstances.
Covered employers must:
Post a notice explaining rights and responsibilities under the FMLA

Include information about the FMLA in their employee handbooks or provide information to new employees upon hire

When an employee requests FMLA leave or the employer acquires knowledge that leave may be for a FMLA-qualifying reason, provide the employee with notice concerning his or her eligibility for FMLA leave and his or her rights and responsibilities under the FMLA

Notify employees whether leave is designated as FMLA leave and the amount of leave that will be deducted from the employee's FMLA entitlement
Medical Certification
When an employee requests FMLA leave due to his or her own serious health condition or a covered family member's serious health condition, the employer may require certification in support of the leave from a health care provider. The certification specifically confirms the following:
The employee or family member has a serious health condition as defined in the FMLA

If the leave is to be taken for the employee, the serious health condition prevents the employee from performing at least one of the essential functions of his or her position

If the leave is to be taken for the employee to care for a family member, the employee's care is needed
Because of the potential sensitivity of the medical information contained in a medical certification, employers should maintain strict control over the delivery of and access to FMLA medical certifications.
Medical certifications, re-certifications, and related records and documents must be maintained as confidential medical records and kept separate from regular personnel files. Certifications should be maintained in locked filing cabinets that are separate from personnel file filing cabinets. Also, access to this information must be strictly controlled to only those individuals with a legitimate and direct need to see the information. Generally, the employee?s direct supervisor should not be allowed access to this information.
Job Restoration And Health Benefits
Upon return from FMLA leave, an employee must be restored to his or her original job or to an equivalent job with equivalent pay, benefits, and other terms and conditions of employment. An employee's use of FMLA leave cannot be counted against the employee under a 'no-fault' attendance policy. Employers are also required to continue group health insurance coverage for an employee on FMLA leave, and the employee must continue to pay his or her share of the premium.
Equivalent Position
If the employer is not able to reinstate an employee returning from FMLA to exactly the same position, the employee is entitled to reinstatement to an "equivalent position". The regulations define "equivalent position" as a position that is "virtually identical" to the employee's former position, including equivalent:
Pay

Benefits and working conditions

Privileges

Perquisites (AKA 'perks')

Status
The Light Duty Rule
By definition, when an employee is on an FMLA-qualifying leave because of his or her own serious health condition, that condition prevents the employee from performing at least one of the essential functions of his or her job.
However, it may well be possible for the employee to do some form of light-duty work during the period when he or she has the serious health condition (
e.g.
, perhaps some of the essential functions can be performed, just not all of them; or perhaps completely different light-duty work can be assigned). In such a case, the employer can offer light duty work to the employee. However, the employee is not required to accept it.
The time spent by an FMLA-qualified employee doing light duty work for an employer following FMLA leave does not count against the employee's FMLA leave entitlement. The employee is entitled to FMLA leave until the 12 weeks are exhausted or until he or she is able to perform all of the essential functions of the job, whichever occurs first.
If the employee voluntarily (the regulations emphasize "uncoerced acceptance") accepts such a light-duty assignment while recovering from a serious health condition, the preamble to the regulations clarifies that the employee retains the right to restoration during the period of light duty and until 12 weeks of FMLA leave have been taken.
For expert, in-person seminar training on your FMLA requirements, go to
HRTrainingCenter.com/showsemdetails.aspx?tcid=1003552
FMLA Rules And Guidelines For Employers
There are multiple FMLA rules and guidelines for employers. Though the information above includes an overview of some of the basic FMLA rules and requirements for employers, employers do have the right to fight back against FMLA abuse. Below is some information on how to understand the FMLA rules and requirements that are permissible for employers to use.
Handling FMLA Abuse
The 12 weeks of FMLA leave do not have to be taken consecutively. In fact, employees can take a day here or a day there, causing the FMLA to be called the "Friday and Monday" Leave Act by many HR professionals because many requested dates just happen to occur in conjunction with weekend days off.
Unfortunately, many HR professionals are unsure of what they can and can't do with regard to those employees they feel are abusing the system. Many companies can, and do, terminate employees who cheat the system, but you have to know what you are doing to avoid fines, penalties, and a bad reputation.
For more on how to handle suspected FMLA abuse, go to:
HRTrainingCenter.com/showwctdetails.aspx?tcid=1002916/
How To Avoid Common FMLA Administrative Mistakes
Because FMLA compliance is so complex, it is easy to make mistakes. Below is a listing of common mistakes. If you are not sure of how to handle any of these, make sure you get training!
Employers generally should not provide FMLA leave in situations that are not covered by FMLA, such as time off to care for a sibling or grandparent

Employers must require employees to provide complete certifications of serious health conditions that necessitate FMLA leave

Employers that fail to keep accurate and complete counts of FMLA time used by employees encourage FMLA abuse

Employers should have a plan in place to ensure employees use FMLA leave properly E

Employers may need to use surveillance to ensure employees do not abuse their FMLA privileges

Employers must not give employees returning from FMLA leave a pay cut or a reduced position within the company

Employers must be able to provide documentation of a legitimate, non-discriminatory, non-retaliatory reason for firing or demoting an employee after FMLA leave

Supervisors must not consider an employee's FMLA use as a negative factor in performance evaluations
For more on how to avoid FMLA compliance mistakes, go to
HRTrainingCenter.com/showwcdetails.asp?tcid=1026489
Find Training For Your FMLA Compliance Requirements
To find training for your FMLA compliance requirements, either select a recommended course below or click on "FMLA" from the 'Professional Development' section of the search box below.
Best-Selling Training Courses: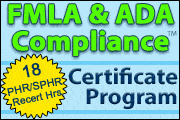 Instructor-Led: Virtual/In-Person Seminars
Online Training Courses
Instructor-Led: Webinars
Find Seminars, Webinars, And Online Training In Your Area