2019 HR Training Webinars
Listed below is our 2019 HR webinar calendar. Most titles are available via live, CD, and On-Demand formats, and almost all offer SHRM and HRCI credits. Simply click a title for more details.
Today's Featured Webinars
Payroll Year End And Preparing For 2020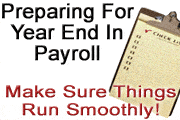 During this session we will discuss the year end process from start to finish. What reconciliations can you do prior to year end, what information should you start gathering, and what are the common items forgotten prior to W-2 issuance are a few of the items that will be addressed during this discussion. Best practices for a smooth year end process will be discussed and tools to assist will be covered.
Available Versions:
Recorded. Available via CD, On-Demand
How To Keep HR From Being The Employee Complaint Department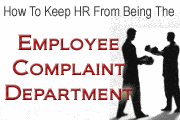 In this informative audio conference, learn how to spot the "Bermuda Triangle", how to avoid getting lost in it, and how to establish boundaries in HR to stop handling issues that HR doesn't own.
Available Versions:
Live on: 11/22/2019. Also available via CD, On-Demand
Year End Legislative & Tax Changes In Payroll
This audio conference addresses the legislative changes to employment taxation for 2010 at both the federal and state level, the resources available to payroll professionals to insure that they are kept abreast of any changes to payroll taxation as they occur, as well as recent trends in state unemployment insurance, the solvency of the funds, and how FUTA will be affected in coming years.
Available Versions:
Live on: 12/4/2019. Also available via On-Demand
Looking for webinars available right now? Check out our on-demand webinars.
Find Seminars, Webinars, And Online Training In Your Area
What Is A Webinar?
A webinar is a training session conducted over the Internet. Typically, a webinar lasts between 60 and 90 minutes, and focuses on a specific topic.
What Is The Difference Between A Webinar And An Audio Conference?
The content is the same, but the way you view the content is somewhat different. With a webinar, you typically view the content on your computer screen and listen to the Presenter on your speakers or phone. With an audio conference you listen to the Presenter via phone, but can download, print, and view the content at your desk. The benefit of the latter is that you can take notes - and keep - your printouts with you.
What Are The Training Formats For An HR Webinar Of Audio Conference?
Our webinars and audio conferences are available in three formats:
Live
You attend a Live version on a specific date and time, and ask questions in real time. And since the price is per phone line, you can have multiple people attend for one price.
CD
The CD version is a recording of the Live event. Though you do lose the ability to ask questions, you benefit from being able to replay the training session multiple times or lend it out to your co-workers or direct reports.
On-Demand
The On-Demand format is a recorded version of the live event that you download.
Do Your HR Webinars And Audio Conferences Carry ReCertification Credits?
Yes, we offer recertification credits! We typically offer 1.5 recertification credits on our webinars and audio conferences for the following accredidations:
PHR ReCertification Credits
SPHR ReCertification Credits
HRCI ReCertification Credits
SHRM ReCertification Credits
SHRM CPSM ReCertification Credits
SHRM SCPSM ReCertification Credits