Payroll Certification Programs
Earn A Payroll Certification!
At HRTrainingCenter.com, we offer several payroll certification courses designed to equip you with the skills needed to become a Certified Payroll Administrator or Payroll Manager. Each of our Certified Payroll classes uses our award-winning training interface and includes numerous examples, administrative tips, and interactive Q&A with answer rationales to help provide valuable insight into compliance requirements while testing your comprehension and application of the learned material!
Being online, these Certified Payroll Professional online classes also allow you to learn at your own pace without time out of the office.
What You Will Learn With Our Payroll Certification Courses
Our Certified Payroll Administrator training and our Certified Payroll Manager courses cover your payroll administration requirements from start to finish, including how to:
Properly "classify" workers
Apply the various exemptions
Calculate gross pay and properly make deductions
Properly identify, pay, and withhold taxes for employees
Administer deferred compensation, cafeteria plan, sick pay, and other compensation
Handle stock options, expense reimbursements, relocation, and other "expenses"
Follow the proper policies, procedures, and documentation requirements for garnishments and levies
Know the rules for Expatriate employees and international payroll
Establish and maintain self-service systems, direct deposits, and paycards
Select and implement a payroll system
Handle payroll audits
Create a disaster recovery plan
Properly complete and file all required reporting requirements
Correctly complete year-end requirements and establish the year-beginning requirements
Comply with the various record retention requirements
Recommended Payroll Certification Courses

Upon completion of the course, you will receive a certificate, suitable for framing, showing your payroll certification. Additionally, each of these courses also qualifies for 32 hours of Human Resource Certification Institute's PHR and SPHR re-certification credits, as well as the Society for Human Resource Management's SHRM-CP and SHRM-SCP PDCs.
Demo
All of our certification courses start with a 'Lesson Goals' page, follows with pages teaching the training info that includes numerous examples, administrative tips, and interactive Q&A with answer rationales, then finishes with several 'End Of Lesson Quiz' questions to help ensure learning and comprehension.
Below is a screen capture of a 'Lesson Goals' page from our "Certified Payroll Administrator" course.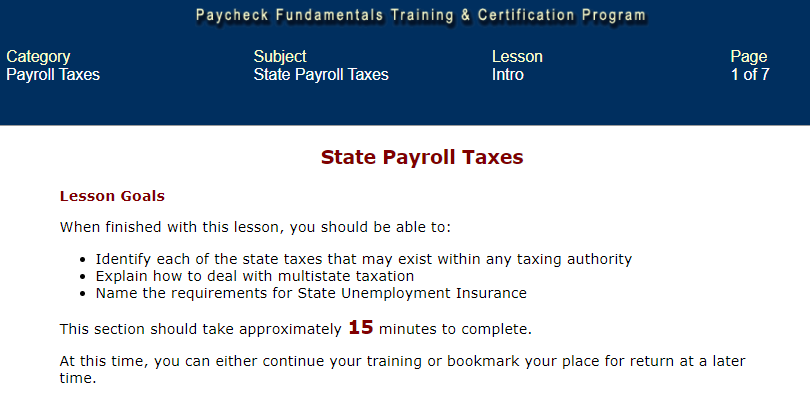 Find Other Payroll Training Classes
To find other classroom, self-study, and online payroll training classes, either continue reading below or select "Payroll" from the "Professional Development" section of the search box below.
Find Seminars, Webinars, And Online Training In Your Area
Why Get A Payroll Certification?
Although most HR professionals will need at least some knowledge of payroll, the concepts can be challenging to grasp, especially if you lack experience in accounting.
Though there are no specific educational requirements to work in payroll, some organizations require their HR employees to have payroll certifications or training. Even if your employer does not require you to get certified, taking payroll classes still offers many benefits. However, holding one or more payroll certifications shows potential employers you understand the field, increasing your chances of employment and promotion.
About Our Payroll Certification Classes
Our payroll certification courses prepare you to handle the day-to-day duties and challenges of payroll, as well as provides the additional skills you need to manage your organization's payroll operations.
These payroll certification courses explain all the aspects of payroll in language that people of any experience level can understand. Although you don't need prior background in payroll or HR to enroll, longtime payroll professionals can still benefit from the in-depth topic coverage.
Not only do you learn more with a payroll certification, but having a payroll certification shows others your commitment to your job, giving employees more trust in your competency and making you more likely to receive a promotion when the time is right. There is also a good probability that a certification will help you earn more money!
Online And In-Person Payroll Certification Classes
Payroll is an important aspect of the HR position. Whether you work as an HR Generalist or a Payroll Specialist, you need to have a strong understanding of payroll rules, regulations, best practices, and reporting requirements to perform your job functions and advance in your career and earning a payroll certification can help you gain the knowledge you need to succeed.
Whether you need to earn a payroll certification to start your career, brush up on your skills, or improve your value, HRTrainingCenter.com offers courses to meet your needs via our Payroll Certification courses.
In addition to online payroll certification courses, we provide additional training opportunities through HR webinars. You can watch the presentations live to gain new information about focused payroll topics or watch the recorded versions on demand at any time.
Other Payroll Training Classes
Need payroll training for the day-to-day issues? We can help there, too! Listed below are some best-selling webcasts and audio conferences that cover your payroll compliance training needs. Simply click on a course title to see more details or to order!
Below are a few of the Payroll webinars and audio conference titles that we hold each year. To see specifics or to order a specific course, simply click the course title.
Start Working Toward Your Payroll Certification
At HRTrainingCenter.com, we have provided thousands of companies with payroll training, from large corporations to small businesses. When you're ready to become a Certified Payroll Professional, enroll in one of our payroll certification courses, or contact us for more information today. To find other classroom, webinar, and onl