Call for support:
770-410-1219
Payroll Training Classes For Americans
Best-Selling Training Courses:
Special Promotions
Need Payroll Training?
Virtually any company doing business within the U.S. can benefit from our American payroll training classes that are available through HRTrainingCenter.com!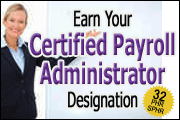 Our website serves as a comprehensive resource center to provide you and your employees with opportunities to acquire the knowledge and skills necessary to effectively manage and run your Payroll department.

We offer courses on many critical topics which may affect your business and/or your employees including various American payroll training classes.

Think about all the time and hassle you can save by using our site as your payroll education and training site of choice.

We are sure that you will enjoy all that we have to offer, and look forward to helping you achieve your goals in the near future. Good luck!
Find Online Payroll Training, Payroll Compliance Courses, and Payroll Training Classes
Training Center offers a number of payroll training classes, including online payroll training and audio conferenced payroll training courses on topics such as:
Paycheck Fundamentals

Exempt v Non-Exempt

Independent Contractors vs. Employees

Garnishments

Multi-state taxation

Fringe Benefits

Travel Pay

Preparing W-2's, 941, and 940

Payroll Reporting

Year-End / Year-Begin Planning
...and more! Simply click the recommended links below to find our best-selling online payroll courses.

Our payroll audio conferences, payroll certifications, and payroll training courses can be found by selecting "Payroll" from the "Professional Development" section of the search box below.

Best-Selling Training Courses:
Special Promotions
Find Seminars, Webinars, And Online Training In Your Area
Share on Facebook
Share on Twitter
Need training or resources in other areas? Try our other Training Center sites: