What Is Human Resource Management?
Human resource management is the strategic and coherent approach to the management of an organization's personnel.
The goal of human resource management is to help an organization to meet strategic goals by attracting, maintaining, and managing employees effectively.
In simple terms, Human Resource Management is the job of employing people, developing their resources, and then utilizing, maintaining, and compensating their services to maximize both the organization's and the employee's potential.
Human Resource Management Issues
Human Resource management issues and requirements are wide-reaching, and include: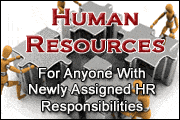 Organizational management

Personnel administration

Workforce planning

Manpower management

Recruitment, Orientation, & Onboarding

Training & Development

Employee benefits administration

Performance Appraisal

Compensation review and/or decisions
Find Training To Help Solve Or Prevent Human Resource Management Issues At Your Organization
HR Training Center offers a vast array of training courses for helping to better-manage your Human Resource management issues, including everything from administrative and compliance training, to payroll/compensation training, to personal improvement courses.
To find the training that best fits you or your organization's needs, either select one of the recommended courses below, or select use the search box at the bottom of this page.