HR Certificates | HR Management Training Courses
About HR Management Training And HR Certificate Programs
Searching for HR management training courses or a certificate in HR management? Then you've come to the right place!
What Is Human Resource Management?
Human Resource Management can be defined as managing employees and risks to help meet the goals of your organization. It can involve hiring, firing, training, managing, motivating, and communicating with employees, as well as measuring goals, complying with state and federal regulations, and doing strategic tasks such as succession planning.
Essentially, the HR Department helps provide the training, coaching, administration, legal, and talent management oversight that the rest of the organization needs for successful operation.
Learn The Key Duties Of An HR Manager And The Important Functions Of Human Resource Management
The key duties of an HR Manager and the key functions of Human Resource management are more than just being a boss or a shoulder to employees to cry on when things don't go their way. Yes, it means dealing with the "human side" of the business, but it also means objectively planning and meeting your organization's strategic goals. As such, a good HR Manager has to know or have:
Leadership skills
Knowing - and complying with - labor laws such as FLSA, FMLA, and COBRA
Not just handling payroll, but understanding compensation planning and benchmarking
Retirement Plan administration
Workforce planning
workforce training / human resource development
HRMS issues and solutions
HR Metrics
Strategic thinking and planning
HR Certificate Programs And Management Training Courses For New And Established Managers
HRTrainingCenter.com offers HR management training courses and Human Resources management certificate programs in a variety of training formats and focus levels. For instance, we offer the following HR management courses and HR management certificate programs:
Online HR management training
In-person HR management seminars, workshops, and webinars
A variety of HR Management certification programs
Simply click below for recommended courses to help with any of these tasks.
>>> HR Management Certificate Programs
HR professionals wanting to improve their knowledge and performance can take one of several Human Resources Management Certificate Programs, including: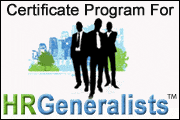 >>> HR Management Training Courses For New Managers
Below are a few of our best-selling training courses for helping new managers to get acclimated to their new HR duties and responsibilities. To see specifics on these or other Human Resource training courses for new managers, go to
https://HRTrainingCenter.com/New_Manager_Training.asp
Human Resources For Anyone With Newly Assigned HR Responsibilities
Management & Leadership Skills for New Managers and Supervisors
Bud To Boss Management Training Seminar
A Crash Course for the First-Time Manager or Supervisor
Leadership, Team-Building and Coaching Skills for Managers and Supervisors
Discipline & Documentation Fundamentals For Managers And Supervisors
>>> HR Management Training For Handbooks, Job Descriptions, And More
Find Other HR Management Training Courses
To search for additional HR management training courses, select "HR Management" from the "Professional Development" section of the search box below.
Find Seminars, Webinars, And Online Training In Your Area